Philadelphia - 10/27 Fall School Holiday Camp (Prof Dev Day)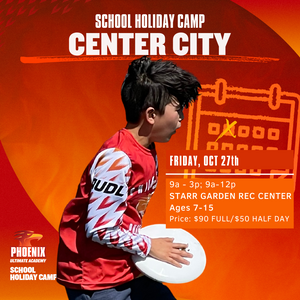 Date: Friday, Oct 27th
Time: 9:00 AM - 3:00 PM
Address: 600 Lombard St, Philadelphia, PA 19147
Phoenix Ultimate Academy is offering a School Holiday Camp in partnership with Philadelphia Parks & Recreation! This single day camp includes ultimate instruction, disc games, scrimmaging, and all around FUN for players of all levels at Starr Garden Rec Center. 
Registration:
Full Day - $90: 9 AM - 3 PM
Half Day - $50: 9 AM - 12 PM
For additional camp information, please contact:
Matt Shade, 
General Manager
m.shade@phlphoenix.com
---
About Phoenix Ultimate Academy
Phoenix Ultimate Academy's mission is to increase opportunities for Philadelphia area youth of all backgrounds, ages and skill levels to learn the exciting, new, non-contact sport of ultimate from professional caliber players and instructors. In addition to teaching rules and techniques of the sport, we focus on developing skills in communication, sportsmanship, body awareness, self-advocacy and conflict resolution - core values to the sport of ultimate and qualities integral to healthy youth development.