PUA Winter Session - 4-Week Advanced Development Program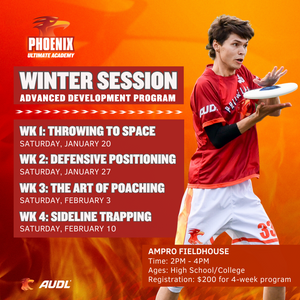 Date: Saturdays, Jan 20 & 27, Feb 3 & 10
Time: 2 PM - 4 PM
Address: AMPRO Fieldhouse, 30 Bunting Lane, Clifton Heights, PA 19018
ELEVATE YOUR GAME WITH THE BEST PLAYERS IN THE GAME!
The Philadelphia Phoenix are offering a 4-week Advanced Winter Session for advanced ultimate players. This program is geared toward players ages 16-23 years old with competitive experience who aim to play at the national amateur and/or professional levels (i.e. high school, college, club players). Each week focuses on a different high-level skill or strategy. Each session begins with specialized instruction on the week's topic and moves to an instructional scrimmage format allowing athletes to employ the newly developed skills in a game environment.
Instructors include Sean Mott, Paul Owens, and James Pollard. Phoenix coaches will also be present to instruct, evaluate, and speak with players!
Week 1: Throwing to Space. Develop and master the position of your throws!
Week 2: Defensive Positioning. Taking advantage of the field and disc position to get a leg up in your matchup!
Week 3: The Art of Poaching. Reading what options the offense has to attack opportunities for a turnover!
Week 4: Sideline Trapping. Working as a defensive unit to restrict the opposing offense!
Please bring turf shoes (NO CLEATS), water bottle, a light and dark shirt, and snack, if desired. Arrive promptly at 1:50pm and be ready at 2pm to get started. 
All registrants must also complete an AMPRO waiver to participate. The waiver can be found HERE.
Email: PUA Director & Hotbird Captain, Brandon Pastor with any questions regarding the program: b.pastor@phlphoenix.com